Mass Mixer
We manufacture better quality of pharmaceuticals equipments that are used for producing powders and particulate in the pharmaceutical industry. The pharmaceutical processing equipment includes low capacity dryers designed for specific potent powders as well as industrial size plants for permanent operation under strict hygiene standards. The product applications include preparation of analgesics, antibiotics, enzymes, proteins, vaccines and vitamins.

Mass mixers are special pharmaceutical machinery used for through mixing of wet as well as dry or lump material, especially suited for tablet granulation. The Mass Mixer Machine is basically mixing an assembly wherein the mixing stirrer is in horizontal position in the container Mass Mixer & has a single speed, simple rotation. The stirrer rotates around itself at a very slow speed inside the bowl and thereby achieving intimate mixing of dry or wet materials of Tablet Granulation, Powder, Chemicals, and Food & Confectionaries Materials.

We deal in manufacturing and export of superior quality mass mixers, that are available in different over flow capacities, working capacities to choose from. These mixers are furnished with tilting device for easy unloading of the material. Easy to operate and clean, these machines can endure intense conditions.
Note: Dimensions & Technical Details are subject to change as per customers' requirement without any further notice.
FEATURES
Suitable for mixing of dry & wet material.
All contact parts in stainless steel.
Paddles so arranged on the shaft to give thorough uniform mixing.
Tilting arrangement, reversible switch and safety switch to stop the mixer as soon as the cover is opened.
The drive is through a system of suitable gear-box and motor.
Technical Specifications
Capacity
50 Kgs
100 Kgs
150 Kgs
200 Kgs
Over Flow Capacity
110 Ltrs
220 Ltrs
330 Ltrs
440 Ltrs
Working Capacity
88 Ltrs
156 Ltrs
234 Ltrs
309 Ltrs
Motor, 440V, 3Ph, 50 CS, AC
3 HP
5 HP
7.5 HP
7.5 HP
Approx
Dimensionsmm
Depth in
1700
2030
2135
2260
Height in
940
1120
1300
1300
Width in
740
635
790
790
Octagonal Blender
The Octagonal Blender is an efficient and versatile blending machine for mixing and lubrication process. Octagonal Blender with Cylindrical Container of dry granules equally. It can be used for pharmaceutical, food, chemical and cosmetic products etc.
FEATURES
Contact parts in stainless steel 304 or 316
Octagonal shaped with rectangular center, conical discharge frustum and rectangular top frustum
Baffles provided in the shell
Manhole with gasket is provided to fix baffles and for ease of cleaning the shell
Charging and discharging is through a butterfly valve. A conical adaptor can be provided for fixing charging drum after butterfly valve
Unit can be provided with bin charging arrangement
All moving parts are enclosed in guards
A safety railing with a limit switch is provided for operator safety
Manual Inching arrangement can be provided
Flame - proof motors with flame - proof push button stations can be provided
Application
These benders are extensively used in
Mixing dry powder for tablets and capsules formulations.
Mixing dry granules sub lots to increase the batch size at bulk lubrication stage of tablet granules
Technical Specification
MODEL
GROSS VOLUM Elitres
WORKING VOLUMElitres
MOTOR
hp
OUTPUT SPEED rpm
DISCHARGE VALVE
inches
OVERALL DIMENSIONS mm
OB 50
125
100
0.5
8
6"
1100
2000
2200
OB 100
250
200
1
8
6"
1200
2200
2500
OB 150
375
300
1
5/10
6"
1400
2200
2500
OB 200
500
400
1.5
5/10
6"
1400
2400
2600
OB 250
625
500
2
5/10
8"
1500
2600
2600
OB 500
1250
1000
3
5/10
10"
1800
2800
2900
OB 1000
2500
2000
5
5/10
12"
2000
3000
3200
Note: Dimensions & Technical Details are subject to change as per customers' requirement without any further notice.
Double Cone Blender
Capacity from 10 Liters upto 3500 Liters, Double Cone Blender is an efficient for mixing dry powder and granulates homogeneously. All the contact parts are made of stainless steel. Two-thirds of the volume of the Cone Blender is filled to ensure proper mixing. It can be used for Pharmaceutical, Food, Chemical and Cosmetic products etc.
Salient Features

The conical shape at both ends ends enables uniform mixing and easy discharge

The cone is statically balanced to avoid anyexcessive load on the gear box and motor.

While the powder can be loaded into the conethrough a wider opening, It can be discharged through a mucon valve or a slide valve

Depending upon the product, paddle types baffles can be provided on the shaft for better mixing

Maximum care has been taken ensure safe operation of he unit. It can also be operated by a timer

The contact parts are either made of SS 304 or 316

Flame proof motor can be supplied as optional

Capacity 10 Ltrs. to 5000 Ltrs.
Model
Brim
Working
Power
Speed
Discharge
Dimensions
Capacity
Capacity

L
B
H
Litres
Litres
HP
RPM
Inches
mm
mm
mm
DCB5
17
10
0.5
25
4
800
450
1200
DCB10
35
20
0.5
25
4
800
600
1200
DCB25
100
50
1
25
4
1000
800
1200
DCB50
175
100
2
25
4
1200
1000
1400
DCB100
350
200
3
25
6
1250
1250
1400
DCB150
500
300
3
25
6
1350
1350
1400
DCB200
700
400
5
20
6
1400
1500
1500
DCB250
850
500
5
20
6
1500
1800
1800
DCB500
1750
1000
7.5
20
8
1800
2200
2200
DCB1000
3500
2000
10
15
8
2000
2400
2400
Note: Dimensions & Technical Details are subject to change as per customers' requirement without any further notice.
Tray Dryer
Salient Features :
Construction: External : 2MM THK Internal : 2MM THKMOC: cGMP
Surface Finish : External:Buffed to 150 grit matt finish Internal: Buffed to 220 grit mirror finish.
Inlet & Outlet: All dryers have a 5 micron pre filter r at the inlet and a manually infinite adjustabledamper at the outlet.
Door : Doors at provided at the front and / or rear side of the dryer. Door lips are lined with silicon ruuber gasket to preventany leakages. Suitable locking is provided for the doors.
Air Circulation : Air circulation is done by specially designed recirculation blowers inside thedryer. The blower capacity , static & design depends on the size and model of dryer.
Heating : Dryers are normally supplied with either steam / electric / thermic fluid / hot water heating system. Suitable heating coils / caloriefiers are provided in the dryers.
Temperature Control : Temp control system is done by electronic digital temp controller fitted in the control panel. The temp control in the dryer is fully automatic.
Trays : Trays are available in S.S. 304 / 316 q. All trays are fully die pressed and with cooved corners. Trays are buffed to mirror finish. Trays are also available in aluminium / Polypropelene / Frp / M.S. galvanized as per clients reqiuirements.
Trolley : Trolley is provided in the dryers to accommodate trays in it. Trolley truck are used to load and unload the trays into the dryer.
Control Panel : Automatic Control panel is fitted on the side of the dryer. If consists of Starters, contactors, safety relays, ckt breakers, indicating lamps, push buttons , timers, controllers etc.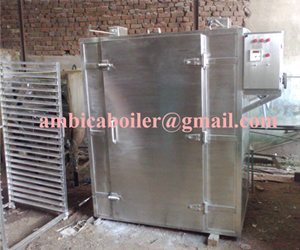 Models

TD-12

TD-24

TD-48
TD-96
TD-192
Loading capacity

12 Trays

24 Trays

48 Trays
96 Trays
192 trays
External Dimensionin mm

W D H
1370 X 530
X 940

W D H
1370 X 940
X 940
W D H
1980 X1020 X1880
W D H
3320X1900
X1880
W D H
3320 X 1900
X 1880
Internal DimensionIn mm
840 X 430 X 840

840 X 860 X 840

1020 X930 X1830
1960 X930 X1830
1960 X930 X1830
No of Doors
One
One
One
Two
Two
No of Blowers
One
Two
One
Two
Four
No of motors / H.P.3 Phase 415 Volts.
1 / 0.5 H.P.3 phase 415 volts.

1 / 0.5 H.P.3 phase 415 volts

1 / 1 H.P.3 phase 415 volts
2 / 1 H.P.3 phase 415 volts
Four / 1 H.P.each3 phase 415 volts
ElectricalHeating Load for100°C / 200°C / 300°C
3kw / 6kw / 9kw

6kw / 9kw / 12kw

9kw / 15kw / 18kw
15kw / 21kw / 27kw
36kw / 42kw / 48kw
Steam HeaterNo. of coils.
2
2
2
2
2
Steam Pressure
3.3 kg / cm2

3.3 kg / cm2

3.3 kg / cm2
3.3 kg / cm2
3.3 kg / cm2
Steam consumption
25 LBS / hr

45 LBS/hr

60 LBS / hr
80 LBS / hr
120 LBS / hr
Insulation
in mm100°C / 200°C / 300°C
50 / 75 / 75
50 / 75 / 75
50 / 75 / 75
50 / 75 / 75
50 / 75 / 75
No of Trolleys
Rack System
Rack System
One
Two
Four
Tray Size
812 X 406 X 31
812 X 406 X 31
812 X 406 X 31
812 X 406 X 31
812 X 406 X 31
Trolley Dimension
Fixed Racks
Fixed Racks
840 X 960 X 1780
840 X 960 X 1780
840 X 960 X 1780
Note: Dimensions & Technical Details are subject to change as per customers' requirement without any further notice.
Vacuum Tray Dryer
FEATURES

All stainless steel 304 / 316 / 316L CGMP or mild steel externals with stainless steel internals (vapor and product contact parts)
Hollow pad type heating shelves which are easily removable for maintenance
Condensor and condensate receiver fitted on the dryer body or stand alone for remote installation
Fully welded skirt on vacuum dryer body for flush mounting through the wall
External insulation of dryer with protective panels in stainless steel or mild steel powder coated
Dedicated fluid heating and circulating systems. These can be steam or electrically heated. Fluid heating systems are available for water as well as thermic fluid.
( for temperature requirements above 95 degree centigrade )

Validation ports and nitrogen purge nozzles
Steam sterilisable models available
Double door loading available for larger models
Tray size is 16 x 32 x 1.25 (h) inches
Capacity: 6 up to 96 Trays,
Vacuum Tray Dryer are used where heating and drying are essential parts of manufacturing process in industries such as Chemicals, Dye stuff, Pharmaceutical, Food Products, Colors etc. Vacuum Tray Dryer is suitable for drying of thermal sensitive material easily deteriorated under higher Temperature. It eliminates configuration damage of the drying materials
SALIENT FEATURES
Bodies may be of cylindrical or rectangular cross section. Both shelves and body are heated (the body to prevent internal condensation) with controlled circulation of hot water, steam or dia thermic fluid. Vacuum is drawn through large diameter ducts to minimize pressure drops and produce minimum working pressures. Both rotary and static dryers can be supplied with the following Optional ancillaries.
Heater system for either pressurized hot water or dia thermic fluid.
Cyclones and sleeve filters for powder recovery (for rotary dryers)
Solvent recovery system with condenser and receiver, vacuum pump and ancillaries, characteristics and dimensions depending on the drying processes.
Dry Heat Steriliser (G.M.P. Model)

The Dry Heat Sterilizer is used in Pharmaceuticals and Biotechnology for sterilization and dehydrogenation of glassware, containers, vessels, machine and components.
We can offer you systems that comply with the most exacting international regulatory requirements for your critical process needs.
Our Dry Heat Sterilizers are available in two options - Class 100 and Class 10,000. We also give you a wide range of choices on the chamber capacity, loading configurations and process control and recording.
The DHS finds application for humidity sensitive materials such as glassware and metal containers that can be sterilized by steam sterilizers but cannot dehydrogenate the load.

At ABF, we assure the performance of DHS meeting the following specifications.

STERILIZATION: Reduction of microbial spore forms up to 12 log reduction.

Technique:

The DHS operation is based on hot air recirculation technique.
The centrally placed load is subjected to hot air circulation by means of an impeller and heater bank arrangement.
Centrally placed impeller ensures circulation via heater bank spaced in the recirculation zone.
Clean air for recirculation is sucked via the Pressure module through a pre filter and high retention HEPA filter (99.997% efficiency)
The efficiency of DHS depends on the velocity and circulation pattern of air within the sterilization zone.
Features
· The inner chamber is fabricated from S.S. 316 or S.S. 316L and is fully welded to ensure a crevice free and easy to clean environment.
· Temperature Uniformity +/- 5 degree Celsius guaranteed within the chamber for the entire cycle.
· STERILIZATION efficiency of 12 log reduction.
· HEPA filter of 99.97% performance for clean air.
· Extended shaft motor for chamber recirculation.
· Positive Pressure throughout the cycle for 100% Sterile integrity of the load.
· Automatic plc controlled cycle with user-friendly operator interface for visual monitor and control over the entire cycle.
· Blind Temperature Controller for overshoots temperature condition.
· From the point of view of chamber safety, the heater bank and fan motor are electrically interlocked.
· Door Interlocking to prevent simultaneous opening of both doors.
· Door Process lock to prevent opening of doors when process is on.
· "Sterile door lock" to prevent sterile door opening unless the sterilization cycle has been successfully completed.
· Circulation Blower or heater malfunction alarm.
· Automatic Fh Calculator with facility for control in case of heat labile materials.
· On-line printing [alpha-numeric and graphical ] for process documentation.
Applications:

· Glassware (Containers such as ampoules, vials etc.).
· Metal trays.
· Containers and metal material.
· Machine and accessories used in production.
· Various types of humidity sensitive material.

Optional Features:

Thyristor controlled operation : For efficient control of heater bank, thyristorised operation via PLC can be optionally provided giving an advantage of better temperature control and uniformity.
Class 100 DHS :

With a view to comply with the latest G.M.P. we put to test the technical expertise of our dedicated engineers to successfully developed the CLASS-100 Sterilization Systems.
· High temperature HEPA filters (0.3 micron, performance 99.97%) are installed in the circulation loop to ensure Class-100 environment in the chamber.

· Differential pressure indicators for monitoring performance of HEPA filter bank.
· Improved filter seating arrangement for maximum filter surface.
· New baffle design for uniform airflow and temperature uniformity between the top-bottom and sides of the sterilization chamber.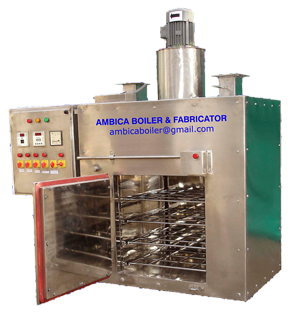 | | | |
| --- | --- | --- |
| Working Space in mm | Cubic Feet | Heating Load (kw). |
| 900 x 900 x 1200 ht. | 36 | 24 |
| 900 x 1200 x 1200 ht. | 48 | 30 |
| 1200 x 1200 x 1200 ht. | 64 | 36 |
| 1200 x 1200 x 1500 ht. | 80 | 48 |
| Or As per Customers Requirement | | |
Steam Sterilizers / Autoclave
ABF research and development efforts resulted in good quality products with excellent and precise process control as per needs of customer and their level of satisfaction.

Steam sterilizers are available in different models and for the suitable applications.
Vertical sterilizers (Microbiology lab) with swing doors.
Horizontal cylindrical sterilizers (Microbiology lab) with conventional radial arm.
Horizontal rectangular sterilizers with conventional radial arm and also with sliding doors.
Bung processor cum sterilizer.
All models are available with SINGLE/DOUBLE door design except vertical which is available only with single door.
Special Features :
Specially designed chamber to ensure complete condensate removal.
Specially designed connector/nozzles sanitary type to avoid any chances of contamination.
Special welding technique to avoid welding depressions inside the chamber.
Excellent chamber finish with crevice free construction to avoid chances of contamination.
Uniform distribution of steam to achieve uniform temperature + 0.1.5oC
Sterile air filter (0.01micron) for vacuum break is provided on sterile side.
Automatic control with PLC based Sterilizer control panel.
Safety Features :
Both doors will not open simultaneously.
Both doors will not open when process is on.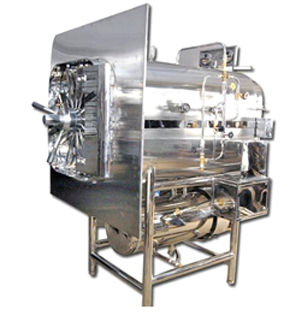 Homogenizer/ Emulsifier
We offer technically advanced and highly efficient homogenizers and emulsifiers for mixing, suspending, solubilizing, milling, dispersing and disintegrating solids. The homogenizer comprises stator and rotor assembly, with rotor rotating inside the stator assembly that is fixed with three tie rods to the motor
Features:

Rotor shaft is directly coupled to motor
It can be directly mounted on the vessel or can be hanged on a separate movable stand with lowering and lifting arrangement
Reduces batch time
Capacity: 0.25 HP to 15 HP (Standard and GMP model)
With SS 304 or SS 316 contact parts

Mixing capacities vary according to the process material, viscosity, shape of vessel
Cylindrical Autoclave
We are manufacturers of triple walled horizontal autoclave India since 1991. Our horizontal autoclave are widely used for day to day mass scale sterilization procedures and in various bulk laboratory applications, where dryness of the sterilized medium is of paramount importance, given the fact that semi dry sterilized media is prone to various micro-bacterial and viral infections. We specialize in both standard and customized models, specifically designed to meet the challenging demands of various scientists for individual and specialized research applications. Over a short period of time ABF brand have been established as reliable manufacturer of horizontal autoclave in India, catering to the vast market of India Apart from that we are supplying our autoclave in India , catering to a variety of customers ranging from Defence Installations, Research Laboratories, Educational Institutes and various R and D laboratories of leading national and multinational companies.


SALIENT FEATURES OF OUR TRIPLE HORIZONTAL AUTOCLAVE (DRY)
Steam Stock Provision
Versatile usage
Stainless steel construction
Ergonomic Design
Energy Efficient
Double Safety Radial Locking Arrangement
Double Safety Valve Protection
Hydraulic Testing Upto 2.5 times the working pressure
Calibration And Protocol Documentation